What does it take to lead an international team? How do you foster cross-cultural collaboration, and how do you keep team members aligned? Of course this is even more important today as we work virtually with the pandemic, but even pre-Coronavirus this was especially true for team Affectiva.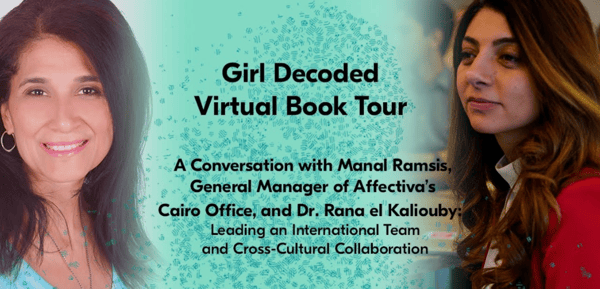 In this special Affectiva Asks podcast episode, Affectiva CEO Dr. Rana el Kaliouby interviews Manal Ramsis, General Manager of Affectiva's Cairo Office. Rana and Manal talk about the genesis and importance of the Affectiva Cairo location (as well as its advantages), the ins and outs of leading an international team, and how to effectively promote cross-cultural collaboration.
Let's take a look at some of the questions and answers from their discussion:
1 –  Can you share with us a bit more about the Cairo team? 
I'm really proud of our Cairo organization. This is a group of hard-working, committed, loyal and ambitious young talent: the right mix for a winning team. In the Cairo office, we have five functions represented right now. We have the labelling function, the platform data engineering function (we are hiring here – check out this Tech Lead for the Platform Team!), the science team, the customer success team, and the operations team.
The labelling team does all the annotation (or labelling) for our videos and images that we use later on in our machine learning pipeline. Our platform and data engineering team is mostly responsible for making sure all of that works on one integrated platform, getting the data in, exporting the data to the next step and so on. The science team is where the machine learning and artificial intelligence part comes in, these are the computer vision people doing all the modeling to produce the results that we want. The customer success team is responsible for responding to our customers for our media analytics products. Finally the operations team takes care of everyone in the office.
The Cairo operation is very much integrated with the Boston office. A lot of our functions are across geography, which I love. The Cairo teams are continuously working together with the Boston team, as well as other team members based in the UK and try to manage their schedules across time zones, and I think that it's an amazing learning experience for everyone.
2 –  What in your mind are some advantages to having two teams based in different locations? 
I believe in Cairo we have access to an amazing pool of young talent. AUC, the American University in Cairo and GUC, the German University in Cairo, stand out as universities with high caliber graduates in our fields. Dr. Rana el Kaliouby, our co-founder and CEO, graduated from AUC and sits on its Board of Trustees. In addition to these great resources in Cairo, we do get a cost advantage by operating in a country like Egypt vs. having many employees in the US.
Another huge advantage I see of having our offices operate in different time zones, is that Egypt is a practical time zone to work in. It gives us better access to the European time zone, a huge plus for our European clients and partners in both the media analytics and automotive business we do. We also have quite a few Asian partners as well, and having the function in Cairo gives us access to that time zone as well. This access also increases our productivity, and gives us the ability to extend working hours. For example, as our US people are sleeping, the Egyptian office is working, then vice versa.
Lastly, having diverse teams across the globe adds great value to what we do. The differences in educational background and culture complement each other and result in a better mix. It is why we value diversity so much, and it really adds to our understanding of the world and how it functions. At Affectiva, we believe having a diverse team makes our technology better. One example we have around the importance of diversity in our data ties into how many of the data annotation team is based in Egypt—many of them young women, some wear a hijab. Years ago, when we first got started, one of these women made the point that "I have yet to come across somebody that looks like me in this data set." We recognized that this was a blind spot in our data. So we prioritized the data collection of women wearing hijabs or other head coverings.
This kind of diversity, not just of gender, ethnicity, or age, but even backgrounds, experience, and culture is so critical and I'm proud that we're able to prioritize that.
3 – How do we keep our teams aligned? 
This is now very applicable, given that, in a global pandemic people can't be in the office for face-to-face time. We do have monthly meetings where we present updates and important events to the Cairo team, and review everything that's happened the previous month. This keeps colleagues aligned.
When we were in the office, we had a weekly lunch hour. We since replaced that with a virtual lunch, and we use this time to connect. Sometimes we'll ask team members to walk us through a typical work day and their function so we learn more about them, but we also play fun games together and co-workers absolutely love this time.
We also have weekly check-ins that we do with the whole company, which is an opportunity for team members to give updates and get on the same page. We also run through what we call "Rock Star Nominations" during that time, where anybody can nominate a person who has exemplified our company's core values. It gives visibility for team members who may not interact directly with each other and it gives us a chance to recognize individuals who have been doing amazing work. These are all great best practices to help align teams in different offices.
The Bottom Line: 4 Advantages to Cross-Cultural Collaboration
To summarize, we find that cross-cultural collaboration fosters innovation through:
Better service for our customers, as we provide coverage across time zones.
Access to diverse, young, and well-educated talent.
Personal employee growth by working with others who come from different backgrounds, cultures and experiences.
Employee professional development and skill building through exposure to cross-cultural collaboration.
Rana and Manal's discussion had some great points on navigating the challenges of two teams located in different time zones (both pre-pandemic and in current times), as well as seeing some advantages to these challenges. Most importantly, they discussed how we keep our teams aligned across time zones, highlighting some best practices of what we have seen work well here at Affectiva.
___
This post was originally published on the Affectiva blog.