Before students at Tufts University finish the Master of Science in Conservation Medicine (MCM) program from the Cummings School of Veterinary Medicine, there's one requirement they may not have anticipated being key to their future careers: a geographic information system (GIS) course.
The MCM program brings together veterinarians, physicians, ecologists, and conservation professionals committed to addressing urgent issues being faced by the planet. The program studies habitat use, conflicts, habitat conservation, emerging and resurging diseases, environmental contamination, ecosystem and climate change, wildlife management and biodiversity loss, and ecosystem function degradation.
"The problems our students aim to solve are inherently spatial by nature, requiring GIS and spatial analysis skills to fully understand and investigate the scope of the problem," said Carolyn Talmadge, Data Lab Services manager and course director for the Cummings School of Veterinary Medicine. Initially, there was no dedicated GIS course, just workshops and guest lectures. "But as we all know, you can't truly get a handle on GIS in one three-hour course," she said.
In 2016, Talmadge—who at the time was a recent Tufts civil and environmental engineering master's program graduate and Tufts' GIS specialist—developed a semester-long GIS course, GIS for Conservation Medicine, securing approval from both the Research Technology director and MCM program leadership. "I am now teaching the course for the eighth year," she said, "and it is one of the most popular and highest-rated courses in the program."
As the Data Lab Services manager, Talmadge works for the research technology team in Tufts Technology Services. She manages the Tufts Data Labs—interdisciplinary research and computing labs that provide methodological and technological support for all aspects of the geospatial and data science workflow. Additionally, she hires and supervises 14 graduate and undergraduate students each year  who work as Data Lab assistants, writes and coordinates GIS learning resources, and creates maps for faculty publications. She also provides advanced consultations; specialty workshops; and in-class guest lectures on geospatial technologies, GPS data collection, GIS, cartography and design, ArcGIS StoryMaps and other ArcGIS Online products, and more.
Inspiring Students to Innovate with GIS and Its Future in Conservation
"Carolyn teaches GIS like someone who has found their passion in life and puts so much effort at making sure her lessons are clear, manageable, and fun for people," said Talmadge's former colleague Madeline Wrable, a solutions engineer for imagery and remote sensing at Esri. "It's clear she cares about her student's success and that their passions are met."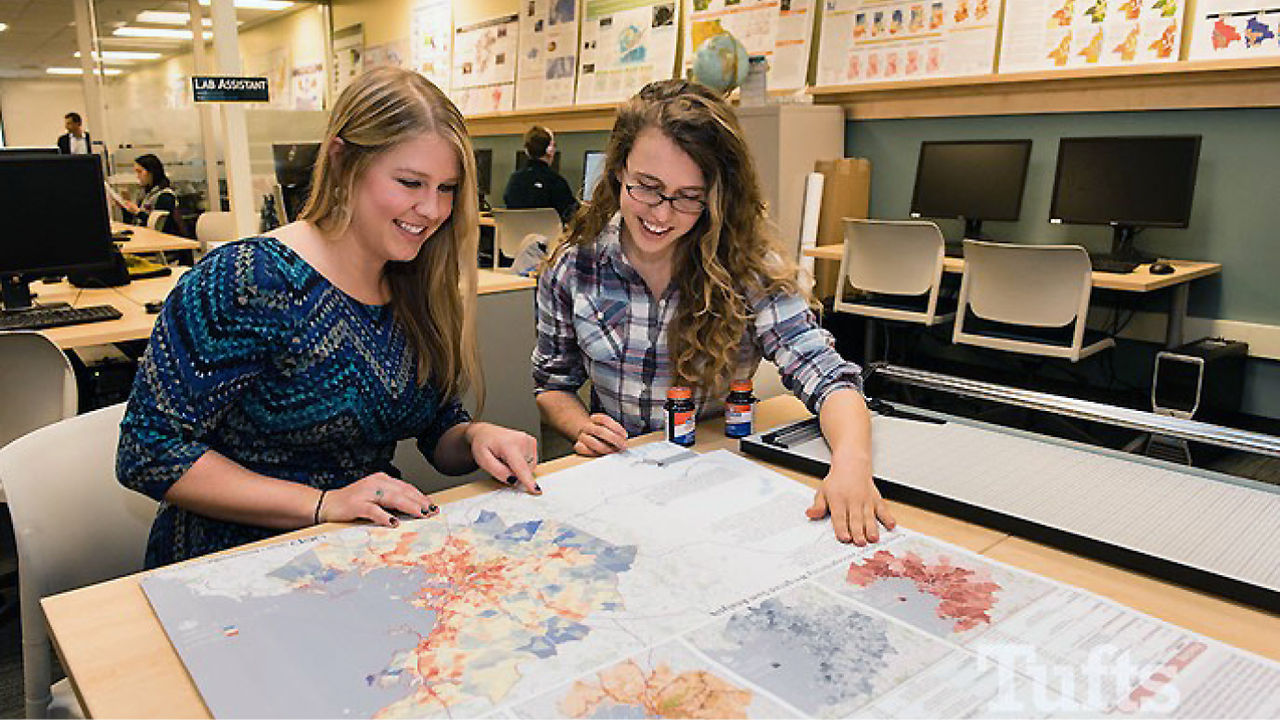 Wrable saw firsthand Talmadge's instructional style as well as how she guided students and Data Lab assistants throughout their learning journey. Whether breaking down how to use GIS to meet a specific challenge, contributing to an email list to share job postings with students and alumni, or building helpful tutorials, Talmadge is "there for someone every step of the way," Wrable said.
When Talmadge was awarded Tufts' Outstanding Contribution to Education Faculty Award in 2019, a former student said, "Not only did Carolyn open up a world of GIS and spatial analysis . . . that feels like a second language I didn't know I needed to speak, but she has also opened herself up as an invaluable source of guidance, motivation, and mentorship during our time in the MCM program."
Talmadge's encouragement has helped her students and peers find GIS positions within conservation or at institutions such as the Smithsonian and other museums, various conservation programs, Massachusetts Institute of Technology, Harvard University, World Bank, the Department of Defense, and the Food and Agriculture Organization of the United Nations. Many former students also return to give guest lectures in her course.
"There are so many entry points to GIS, especially with the wide array of tools that Esri has available," said Talmadge. "My goal for the class is to first provide the motivation for learning GIS before teaching the skill itself. I also want my students to know GIS is not as scary as they think it's going to be. They can have a lot of fun with the data and software while having a tremendous impact on the research and work being done in the conservation realm."
Building a Curriculum That Reflects How GIS Helps Conservation Medicine
When building her course, Talmadge took great care in understanding that those enrolled in the MCM program had diverse levels of comfort with technology and data analysis based on their disciplines and expertise. "Some know that GIS is critical for what they want to do, while others have never heard of GIS in their life and are nervous using computers, let alone data analysis software," said Talmadge.
To secure student buy-in, Talmadge focuses her course using the MCM program's One Health lens , a collaborative, multisectoral, and transdisciplinary approach that aims to ensure optimal health outcomes by leveraging resources at the local, regional, national, and global levels. This approach recognizes the interconnection between people, animals, plants, and their shared environment.
"My course covers a range of applications and focuses on using geospatial tools to investigate environmental health, animal health and wildlife management, and public health issues facing us in today's world," said Talmadge.
Talmadge's goal is for students to see the utility of GIS in every assignment and how it could pertain to their research or career interests. "I do my best to make the class engaging and accessible, yet try to motivate and challenge them to think about how they can use these tools and spatial analysis to address and solve the problems they are most passionate about," said Talmadge.
Each class session, Talmadge builds on the skills students learned the previous week, using the first hour of the three-hour class as a lecture to learn new tools and applications. She then focuses the remaining time on hands-on activities to reinforce the concepts learned in the lecture.
"I strongly prefer to do live GIS activities with the students rather than having them work through tutorials on their own in class because, as we know, GIS offers a number of different ways to achieve the same outcome. When we are completing the activity together, I can explain why we are doing something specific, walk through the pros and cons of this method versus other approaches we've learned, and share helpful tips for getting around the software or visualizing the data," said Talmadge.
Doing live activities allows Talmadge to start with a refresher on what students learned the previous week and adding onto it. Live activities also allow students to ask questions, troubleshoot together, and bond.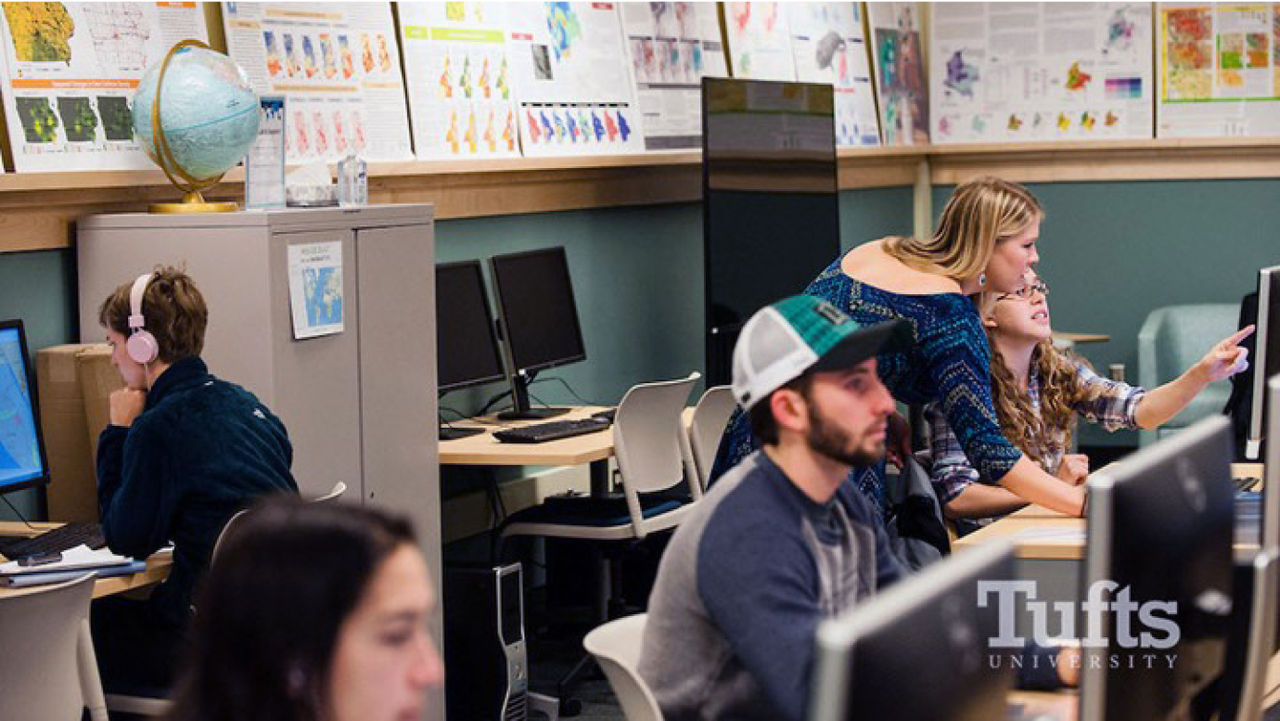 Each activity uses a different scale addressing challenges from the neighborhood level to the global level, as well as an alternative application, method, and data source readily used in conservation work. These include International Union for Conservation of Nature (IUCN) data; Global Forest Watch data; or faculty-collected data, such as turtle nesting sites or soil samples.
"We go into these activities using real case scenarios and datasets instead of showing [students] how to use a tool on a random piece of data, so they are completing these activities with a purpose and goal," said Talmadge.
Key to her instructional philosophy is emphasizing cartography, design, and communication in the course. "It is so important for the students to learn how to communicate and visualize the data efficiently and effectively in order to deliver their intended message. Understanding design and cartography concepts is a huge part of communicating spatially, and as such, both skills are an important component of my course," said Talmadge.
Throughout the course, students use GIS software like ArcGIS Online and ArcGIS Pro to make high-quality maps, gain knowledge in database management, and perform data cleaning and spatial analysis. A favorite assignment is collecting field data using ArcGIS Survey123 on a subject of interest such as wildlife sightings, invasive species, or habitat degradation.
The entirety of the class builds up to the final GIS analysis project, where students are free to choose their topic and build an engaging and informative poster.
Many of the posters created by Talmadge's students have gone on to win recognition at the Esri User Conference Map Gallery. In 2022, MCM student Adina Zucker, who recently started a position doing GIS work for the National Park Service, placed first in the Communicating Science Spatially category. In 2021, another MCM student, Madison Bolduc, who is now the GIS manager for the Biodiversity Research Institute, was awarded first place in the Spatial Analysis Using ArcGIS StoryMaps category.
"Nothing makes me more excited than seeing my students excited about GIS and all of its possibilities," said Talmadge. "Their GIS success motivates me each year to keep improving and expanding the class, keeping it relevant with the newest technology and important tools they should know entering into the GIS and conservation fields."
Even for those who don't go into GIS career fields, Talmadge hopes her students leave with beneficial job skills such as understanding what design qualities make good or bad maps and visuals, how to evaluate data sources and methodologies, how to collect and organize data, and how to communicate findings effectively.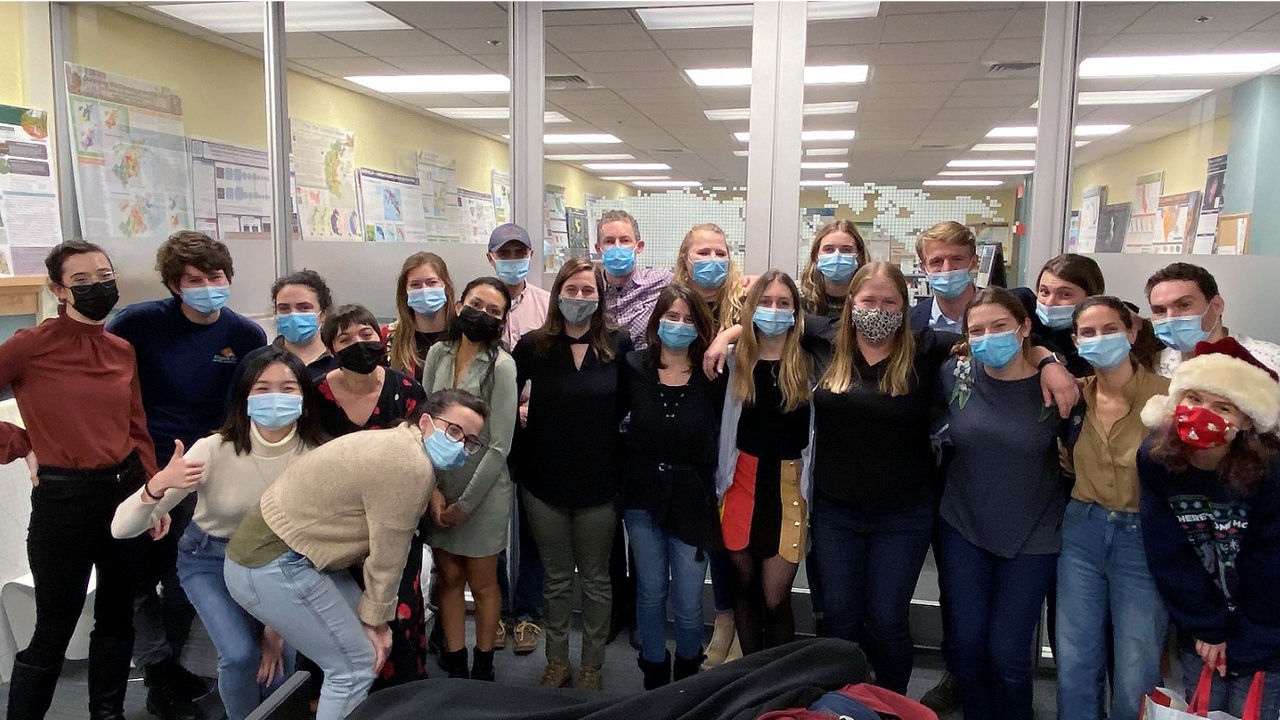 In looking to the future of her course and conservation efforts, she believes there is room to expand the application of GIS to include incorporating GPS data collection and drone technologies. In fact, the MCM program started a course in 2020 called Drones—Unmanned Aircraft Systems (UAS) for Field Data Collection, Mapping & Analysis because of the increased interest and demand in geospatial technologies. Talmadge believes that as GIS becomes a more integrated practice in conservation, the results of field studies will become accessible to the public and open pathways for interdisciplinary collaboration.
___
This post was originally published by Esri.