The following post about MassTLC originally appeared on the Progress blog. We are grateful to have such an enthusiastic community of members spreading the word about our events and more. To see all upcoming MassTLC events, click here. 
___
MassTLC events are perfect for Stacy Cataldo—they're fun, rewarding, social, and they put her face to face with the best tech minds in the region.
She's been going to events hosted by MassTLC for about a year and a half, and is one of several people from Progress who are involved. Yogesh Gupta, president and CEO of Progress, is on the board of trustees for MassTLC along with other tech leaders, investors, academics, and policymakers.
"It's a really good opportunity to come together with the tech community," said Stacy, a senior talent acquisition specialist for Progress and a 16-year veteran with 4,759 LinkedIn connections and counting. "We're tapping into similar industries, people who do what we do or have similar mindsets."
The high-energy events for MassTLC are a hotbed for digital innovators and a fertile recruiting ground for someone like Stacy.
"I'm looking for talent and recruiting. I'm helping others learn more about what I'm recruiting for and about Progress itself," she said. "Through these events, we're getting more recognition for what we do, and it opens the doors to a greater talent pool and pipeline, creating more visibility for our brand, and increasing our community involvement."
MassTLC events aren't just about networking, selling products, marketing, or sharing cool engineering feats, they're about a being part of a greater community of change-makers and doers. There's something for everyone, from a marketing specialist to a senior engineer to an industry influencer to the executive in the board room.
Now three and a half years into her tenure at Progress, Stacy's participation in events like TechJam and Tech the Halls have helped her connect with people with the right expertise for Progress. Our wide-ranging software portfolio opens up fantastic opportunities to engage with people with a variety of interests, from digital experiences and web content management to UI/UX tools to data connectivity to cloud native app development to app evolution to cognitive services to secure managed file transfer to network monitoring.
But the best part is it's fun.
"I have a ball. I don't mind that it's after-hours. I like to make it fun. Everyone who comes to our booth has a lot of laughs. People leave with great swag plus a better understanding and/or excitement about Progress as a whole. And it leads to a lot of relationship building that comes after," she said. "I like being face to face, that's what I love about these types of engagements—putting a face with it vs. what they may have seen online."
Stacy said she hopes Progress continues to play a bigger role with MassTLC, including at next summer's TechJam.
"Our goal is to be at far more MassTLC events, job fairs, and be out there building more visibility," she said. "The fact that (MassTLC) has so many events focused on tech helps."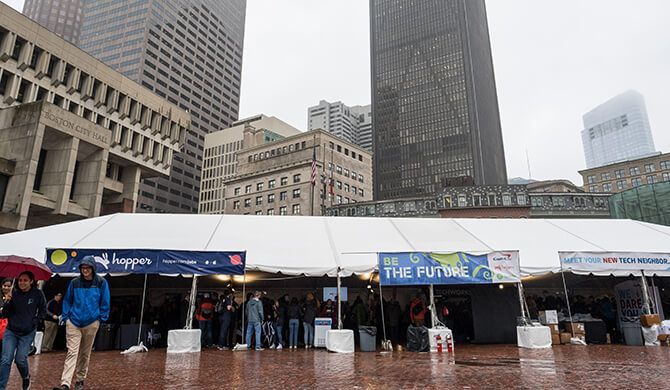 This is the second year of Progress being a global sponsor of MassTLC. Other sponsors include Comcast Business, DellEMC, Foley Hoag, Google Cloud,  IBM,  InterSystems,  MathWorks, Matter Communications, Nuance, Oracle, PTC, PwC, Raytheon, Rocket Software, Salesforce, and Zoominfo.
With an impressive roll call like that, it's easy to see what MassTLC has to offer.
"The fact that they are on top of trends, share a lot of information, help folks come together—from startups to bigger companies like us. We can all learn from each other," she said.
But there's one takeaway that Stacy might like more than anything after meeting so many talented people.
"I like to bring together great candidates and hiring managers," she said. "I still do the happy dance when someone accepts an offer."